On the morning of Monday, January 26, I logged in to check my e-mail. I saw that I had two new messages where the subject referenced the M1025 Hummer. As you can see in the screenshot below, one of those e-mails came from Movable Type telling me that a new comment was posted.
I, of course, hurriedly opened the e-mail to see what "datatrading2003" had to say. I was a little confused by his comment: "... if you can quote parts..." (read the whole thing). I wasn't a reseller. What was he talking about? If he read my review he'd see I sold nothing.
Whatever. I opened the next e-mail. It had a similar message:
hi,

kindly advise if you can quote the attached list of parts for HUMMER model (M1025)

thank you
Dara Trade Center

fax: 601-572-xxxx
Obviously it was from the same guy who left the comment on the Hummer. Attached was an Excel file. I opened it and bust out laughing! This guy wanted quotes on parts for a real Hummer! A sampling: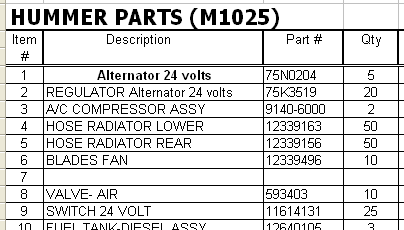 I replied to his e-mail, asking if he had bothered to read the review, looked at the photos, or anything like that. I still haven't gotten a response. Spam? I doubt it. As noted above, he even gave me a fax number. I was suspicious that the excel file might have a macro/virus, but apparently not. It appears to be real.
Perhaps I should give him a quote (with a significant markup for myself)?