Gold tail feathers of a northern flicker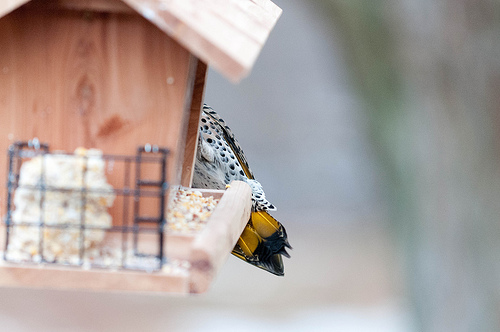 Gold tail feathers of a northern flicker
Seeing the northern flicker take off is neat because suddenly the bird almost changes color: its tail feathers and the underside of the wings are vibrant gold.
I haven't been able to capture the bird in flight (but I will). But, I do get to see a glimpse of the gold sometimes when the bird feeder is moving and rotates until I can see the tailfeathers, as in this photo.
I think this photo does an awesome job of showing those feathers off, too. The out of focus bird feeder provides a little context along with the blurred background places the focus on the bird. However with the bird mostly hidden, attention is drawn more to the tail feathers than if the whole thing were visible.
See the original on Flickr.