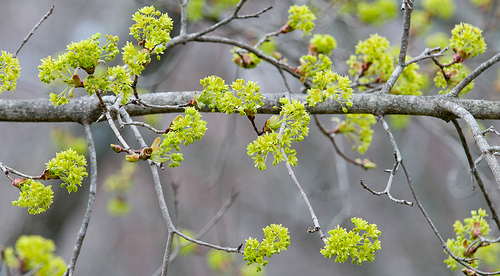 Spring, horizontal
I wanted to capture some of the springtime growth we've seen lately and this straight horizontal branch seemed like a good way to make the leaves of this maple tree a little more interesting. I figured that a horizontal crop could also further emphasize the line.
I was torn on the depth of field for this photo. I wanted to keep the foreground leaf growth in focus as well as the horizontal branch. But I also wanted very thin depth to further de-emphasize the other branches and make a clear background — and that wasn't quite successful. I don't think there was any way to manage that, though, because, well, it's a tree that grows how it sees fit!
See the original on Flickr.