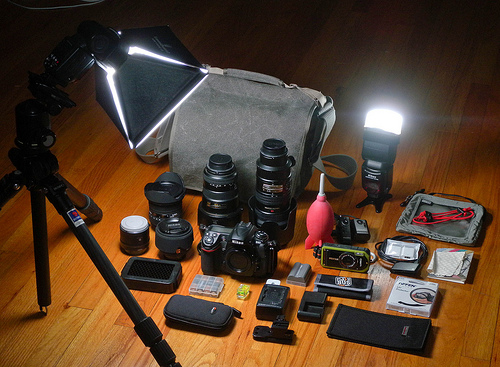 Preparing for Wyoming
A few weeks ago, my friend Jeff shared a photo of the photo gear he was packing to take on a trip to the Grand Canyon. So, I decided I wanted to take a similar photo, too.
A rundown of the gear in this photo:
Lumiquest Softbox III
Nikon SB-900, with dome diffuser (x2)
Arca-Swiss B1 ball head
Benro C-298M8 carbon fiber tripod
Lowepro memory card wallet, filled with 22 GB of compact flash and 5 GB of SD memory cards
Really Right Stuff foot for Nikon 70-200
Honl bonce card (x2)
Battery chargers
Flash shoe mount bubble level
Extra AA batteries
Honl 1/4 grid
Nikon TC-20E III 2x teleconverter
Sigma 30mm f1.4
Nikon D300 body
Extra D300 battery
Thinktank Photo memory card wallet (special edition from The Flash Bus tour!) filled with gels
Circular polarizer
Microfiber cloth
USB card reader
Apple iPad camera connection kit
Pentax W90 waterproof camera
Phottix cable release for the D300
Giottos rocket blower
Nikon 70-200mm f2.8
Nikon 17-55mm f2.8
Sigma 10-20mm f4-5.6
Thinktank Photo Retrospective 10 camera bag
Thinktank Photo Cable Management 20 bag
Mini bungee cords (x3)
Not pictured is a Lenspen and two Tenba padded wraps.
The chargers, card reader, iPad camera connection kit and RRS foot fit in the Cable Management 20 bag. The tripod, Giottos blower, and Cable Management 20 bag fit in the tripod bag. Everything else fit into the Retrospective 10 — and let me tell you, it is packed!
I shot this photo with Sherree's Nikon Coolpix P6000 (which she is taking on the trip, of course). I used the on-camera flash (at -2 EV) to both light and optically trigger the other flashes. The left flash is at 1/32 power and is responsible for all the little highlights and shaping of the lenses. The flash at the back right is at the lowest power it'll go (1/128), and obviously should have gone even lower. It's lighting part of the Retrospective 10 bag and casts the highlight on the Phottix cable release.
See the original on Flickr.