Tree Swallow at West Thumb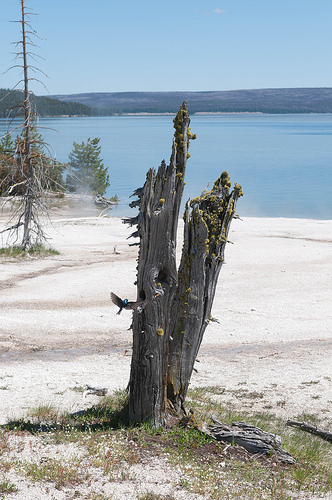 Tree Swallow at West Thumb
While exploring West Thumb in Yellowstone, I saw a tree stump that grabbed my attention. Just as I was about to take a photo of it I saw a Tree Swallow fly out of it. A few seconds later I saw it fly back in, then another appear in the hole it came out of. I watched for a few minutes as they flew nearby. They are presumably a mating pair living in the tree.
The longest lens I was carrying at the time was the 17-55 mm, and I was standing on the edge of the boardwalk stretching as far forward as I could. This is as close as I could get. A tighter shot of the birds would be great, of course, however my initial interest was in the tree and its texture and detail… which would have also benefitted from getting closer. This will have to do.
See the original on Flickr.