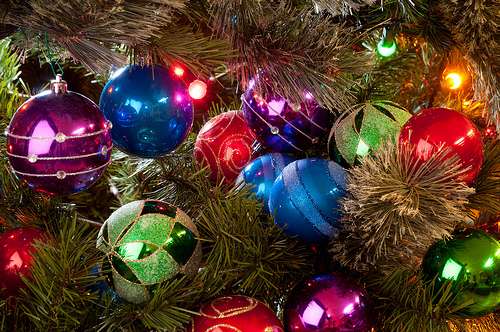 Decorating the Tree
We used some shatterproof balls to decorate the Christmas tree this year so that we wouldn't have to worry about Patrick breaking ornaments. To hang the balls on the tree we had to attach hooks to them, but Patrick was often too fast and would just grab a hookless ball and put it in the tree, just piling them up in one spot.
Ok, to be honest, this photo isn't quite authentic. Sherree suggested a photo of Patrick's decorating, but I took it further by positioning the branches and stacking additional balls to make a busier scene. But then, I pulled all of the balls out and had Patrick put them in place — authenticity restored!
You don't need to look too hard to tell that I used a square softbox at camera left to light the scene. There's also a flash behind the balls (balanced on a branch in the tree) at camera left, which helps add a little more shape to the balls.
See the original on Flickr.