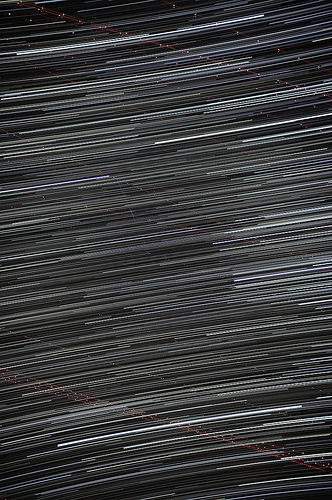 Horizontal Star Trails
I've shot plenty of star photos and have made quite a few star trail photos, but I enjoy seeing the varied result that small changes make. To make this shot a little different I just did two things: used a portrait orientation (I usually shoot in landscape orientation) and I pointed the camera as far away from Polaris, the north star, as I could. The result is fairly straight star trails (as opposed to arcs or circles) running roughly horizontally through the frame (as opposed to diagonally). I also used a larger aperture to see some more stars, which has made a lot of trails. Quite a few satellites, too: along the bottom there are several repeated lines, presumably from a single satellite circling the earth a few times.
See the original on Flickr.