Having a Snack at the RV and Camping Show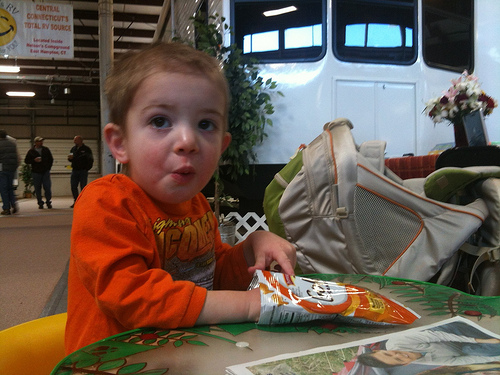 Having a Snack at the RV and Camping Show
One of the sellers had a kids table and chairs set up. They are intended for kids to sit at while the parents are haggling over the price of a camper they like, but we happily made use of it for a snack and break. Patrick was happy looking around at all the campers until I asked if he wanted a snack — he realized just how hungry he was and gobbled down the whole bag of goldfish crackers.

Immediately behind Patrick is the kid carrier I brought along to carry a few things as well as him when he got tired. He didn't sit in it once, and was in fact vehement that he would not sit in it at all. Had I known he wouldn't sit in it and would walk almost the whole time, I would have brought along a smaller backpack.
See the original on Flickr.