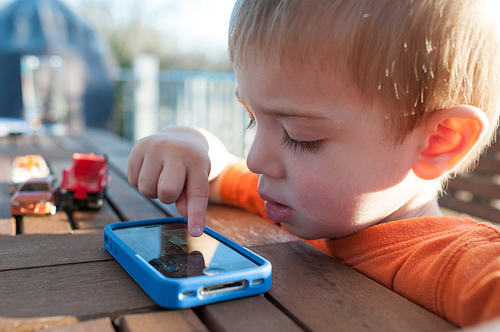 Not Social Commentary
While reviewing photos in Lightroom, the thumbnail of this shot grabbed me immediately. The blue iPhone case, orange shirt, close-up of Patrick, and sun beating on his back. I took a number of photos this afternoon that were at least a little appealing, so I was sure this one was good, too. It was worth a closer look; I hit the enter key for a full-screen view.
Then, I had to laugh at what this photo looks like: kid playing on an iPhone, trucks to the side (out of focus, even!), ignoring the sun behind him (where no doubt traditional play lie). What is this world coming to? How could we encourage our kid to sit mindlessly attached to an electronic device, devoid of contact with the real world? Oh, we're such horrible parents!
Of course, this photo is only capturing a moment in the afternoon we spent outside on our deck where I took some photos. No doubt we also ran up and down the driveway, took a walk on the road, threw some rocks in the nearby stream, and had a typically exhausting day — all of which I didn't take photos of. You can even jump to the previous photo to see that he had some non-iPhone fun, too.
See the original on Flickr.