Lathe, Circular Saw, and More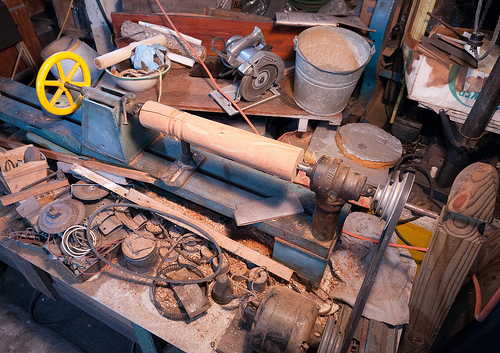 Lathe, Circular Saw, and More
As I previously wrote, we visited Grammy recently and I took a few photos of the tools in the basement.
The workbench with this lathe on it was originally pushed against the wall (towards the camera), but was moved several years ago when the house needed a closer inspection from a termite infestation. Moving the workbench (and all sorts of other stuff) in towards the center of the basement certainly packed everything tighter and made the area look more cluttered.
I'm tempted to say that I remember this piece of wood in the lathe from my childhood, but I'm not certain. You can see a big split in the wood, so it's certainly been there a while and dried out. The workbench is covered in sawdust wood chips, perhaps from the wood in the lathe. All sorts of other junk there, too.
Again, the scene was very dark, though there were a few worklights that basically lit this scene. I brightened the shadows beneath the lathe with a flash on camera left using just a dome diffuser (I wish I brought a softbox). Hanging from the ceiling near the top of camera left was a second flash, which added a highlight to the circular saw and a few other spots.
See the original on Flickr.