Jackson, Wyoming at Night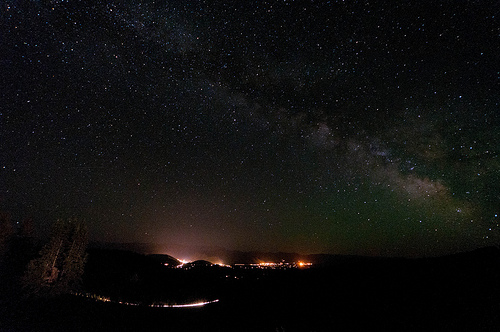 Jackson, Wyoming at Night
One day while on vacation, we drove over the Teton Pass and into Idaho. The Teton Pass road winds up the side of the Teton mountain range to over 8,000 feet high, letting you look down into Jackson Hole and Idaho. During the daytime, it was quite the experience.
I thought it might provide a rather magnificent view at night, too. At the peak of the pass there is a great lookout area, however when I visited at night I discovered there was a huge floodlight at the top! There was no way to take a photo of the night sky and Jackson's lights from that location because of the large amount of light pollution introduced. I drove back down the pass a short distance to another overlook and set up to take this photo. The view of Jackson's lights glowing in the valley isn't as good as from the top, but it's still nice. The arc of light at the bottom left is from cars driving up the Teton Pass.
See the original on Flickr.