Pro-Line Bow Ties on Split Six Beadlocks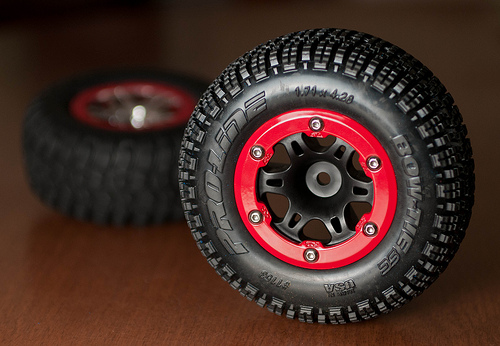 Pro-Line Bow Ties on Split Six Beadlocks
For Christmas Sherree got me two sets of Pro-Line Bow Tie tires and Split Six beadlock rims for my Traxxas Slash 4x4. The tires came right away, but the rims were on backorder for quite a while. They're finally here, though, with tires mounted and on the Slash, ready for some racing!
I have been running the stock Slash tires since I started racing. I have been putting traction goop on them to help soften them, and that's made a big difference by giving quite a bit more traction when running on the track. Somebody let me try a pair of aftermarket tires one day, and I was amazed at what a difference it was — much more traction than the Slash tires had (even with the traction goop on them). Even "hard" aftermarket tires are a substantially softer rubber than the stock tires, and that gives them much more grip on the track. Having more traction obviously helps with acceleration when starting, but I was also surprised by how the handling changed when turning and the amount of control it gave. An excellent upgrade: with better tires I've been able to consistently improve in races by about two laps.
I had the idea for this photo in my head, but didn't really execute it well. During lunch one day I set the tires on the table and used a Lumiquest Softbox III at camera left to light the Pro-Line tire in the foreground, and simply called it good enough. I should have also added a light on the right to give some rim light on the Pro-Line tire, to separate the old Slash tire in the background.
See the original on Flickr.